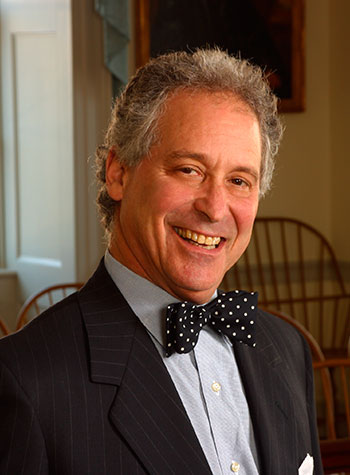 Robert N. Rosen legal papers, 1941-1994 (bulk 1981-1990) [AMN 1028]
The son of Ida and Morris Rosen, Robert N. Rosen was born in 1947 in Charleston, South Carolina, where his mother was a teacher and his father an attorney. Rosen attended public schools in Charleston and was a student at Rivers High School when it became the first integrated school in the city. He graduated from the University of South Carolina School of Law in 1973. He served as Assistant Corporation Counsel for the City of Charleston (1976-1985); as general counsel for the Charleston County School District (1982-2003) and for the Charleston Housing Authority (1984-2003). In the three cases represented in this collection, he defended the Charleston County School system against the initial charge that the Charleston County School District violated the equal protection clause of the Fourteenth Amendment. Rosen is also the author of several books on historical topics.
Each series in this collection contains court documents and legal proceedings pertaining to the three court trials of United States of America and Richard Ganaway, II et al. vs. Charleston County School District and State of South Carolina, in which Rosen and Alice F. Paylor, of Rosen, Rosen & Hagood, Charleston, S.C. successfully represented the defendants, Charleston County School District and State of South Carolina. The collection primarily follows the original order of the Rosen, Rosen & Hagood Law Firm, and is divided into six series. The first five (Judgment; Pleadings; Discovery; Testimonies; and Exhibits, Defendants and Plaintiff-Intervener) contain court transcripts, legal proceedings, reports, memorandums, correspondence and documents pertaining to the three court trials. The remaining series, Attorney Files, consists of sub-series of Desegregation Cases, School Board Minutes and Charleston County School District Correspondence, Charleston County School District Magnet Schools materials, Numbered Documents, and Miscellaneous Reports.
John C. Ruoff papers, ca. 1972-2002 (bulk 1992-2000)[AMN 1027]
John Carl Ruoff (b.1948) received a Ph.D. in History from the University of Illinois at Urbana-Champaign in 1976, specializing in social and cultural history of the 19th century American South. Starting in 1987, he has worked as Executive and then Research Director for South Carolina Fair Share, a civil rights advocacy group, providing statistical and demographic technical assistance and support to community groups. He has also provided policy analysis and advocacy on consumer, utility, and telecommunications issues, and gave expert legal testimony for several legal cases during his career.
The collection, following the original order of the donor, contains materials grouped by subject, consisting almost exclusively of demographics, statistics, and data collected by John C. Ruoff in his capacity as Director of South Carolina Fair Share. The bulk is mostly data and statistics regarding legal cases for which Ruoff provided expert testimony. Legal cases include NAACP v. City of Columbia (1993), NAACP v. Richland County, Williams v. Baldwin County Commission, Able v. Wilkins, Smith v. Beasley, NAACP v. Kershaw County, and NAACP v. Spartanburg County Board of Education mostly regarding voting rights, local and state cases concerning reapportionment and redistricting, school desegregation, deregulation and restructuring of the electric industry and bus routes involving the SC Electric and Gas Co., auto insurance reforms, and various other economic and social reforms such as crack-addicted babies, teen pregnancy, statutory and marital rape, and other issues
Julius Waties Waring (1880-1968), a Charleston native and attorney became a Federal Judge in 1942. At the time of his divorce and remarriage in 1945 to Elizabeth A. Hoffman (1895-1966), he began to hand down more liberal decisions, such as equalizing the pay of black and white teachers and outlawing South Carolina's white-only Democratic Primary. He soon ruled that separate but equal was per se inequality. In 1952, the Warings moved to New York City.
This collection consists entirely of photocopied materials from the Moorland-Spingarn Library's collections of Judge J. Waties Waring Materials. The correspondence series contains copies of letters from Septima Clark and Ruby Cornwell to Elizabeth Waring regarding national and local civil rights and election issues, the local National Association for the Advancement of Colored People (NAACP), changing times and Clark's citizen education work for the Southern Christian Leadership Conference, among other topics. Photocopies of legal proceedings including some from the Briggs versus Elliott law case fighting unequal school facilities for African Americans and some from the case of John Wrighten (with Thurgood Marshall as attorney) versus the Trustees of the University of South Carolina for his being denied entrance to the law school due to his race, and the unequal education a new law school for African Americans would provide.
Armand Derfner Legal Papers [AMN 1049]
Armand Derfner (1938- ) is a Charleston-based noted civil rights attorney, well-known for his work outlawing at-large elections in local governments. Derfner's papers document his professional work since establishing his legal practice in South Carolina in 1974. The papers are organized according to legal cases.
The bulk of the material concerns civil rights issues argued by Derfner at various South Carolina courts. Over 70 court cases are documented, with issues discussed relating mainly to racial discrimination, school desegregation, voting rights, employment rights, free speech and property rights in South Carolina. Cases challenging the local and federal governments to enforce the Voting Rights Act of 1964 in order to address the dilution of African American voting power and issues of racial discrimination and inequality in election procedures are well documented. Also included are videotapes of the Charleston 5, the alleged riot of Charleston Longshoreman Union members which resulted in an out-of-court settlement.