Adapting a Work
Adaptations (also called derivatives or remixes) are works based on existing works. The legal definition of adaptation varies internationally, but most require a level of originality in the new work. Examples of adaptation include translating a work into a different language and making a film based on a novel.
Some Changes are Not Adaptations
Not all changes to a work are considered adaptations. For example, spelling corrections and formatting changes (e.g. from digital to print) are generally not adaptations.
Licensing Compatibility
You can adapt or remix content from multiple CC-licensed works into a new derivative work. However, different CC licenses have different specifications for whether and how adaptations can be shared. This means some types of CC-licensed works are incompatible with each other and cannot be used together in a single adaptation.
For example, CC licenses including the share-alike (SA) component require that adaptations have the exact same license, so a CC-BY-SA work and a CC-BY-NC-SA work cannot be combined. The presence of the non-commercial (NC) component in one license but not the other makes these two licenses incompatible. A CC-BY-NC-SA work could be combined with a CC-BY work; the resulting adaptation could be licensed CC-BY-NC-SA and be fully compatible with the licenses of both original works.
This chart shows which types of works can and cannot be combined in an adaptation.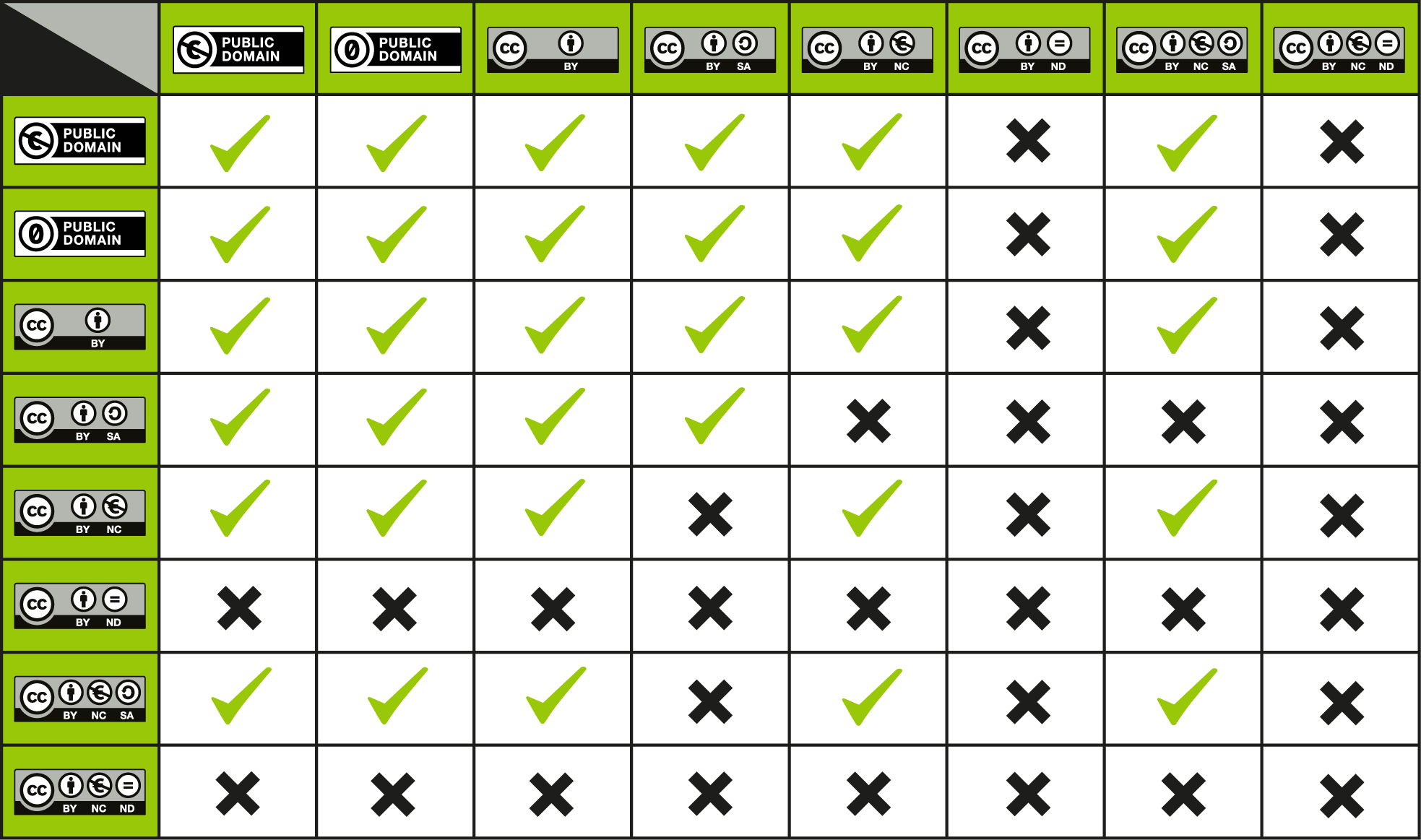 CC License Compatibility Chart by Creative Commons, licensed CC-BY 4.0
Licensing Adapted Works
Besides selecting compatible works for your adaptation, you will need to license your new work with a compatible license. The adapter's license chart below shows which licenses you could apply, based on the license of the original work. If the box is green, you may use that license. Yellow shading indicates that the license is technically permitted, but Creative Commons does not recommend this usage. If using one of the yellow-shaded pairs, Creative Commons advises you to clearly mark that the adaptation includes works with multiple copyrights, so that subsequent users understand the adaptation includes content with more restrictive copyright obligations. Gray shading indicates an adapter's license that is incompatible with the original work and should not be used.
If you are combining multiple compatible works, selecting the most restrictive license and applying that license to your work is good practice to follow.
Adapter's License Chart by Creative Commons, licensed CC-BY 4.0